Aircon Chemical Servicing & Chemical Overhaul Singapore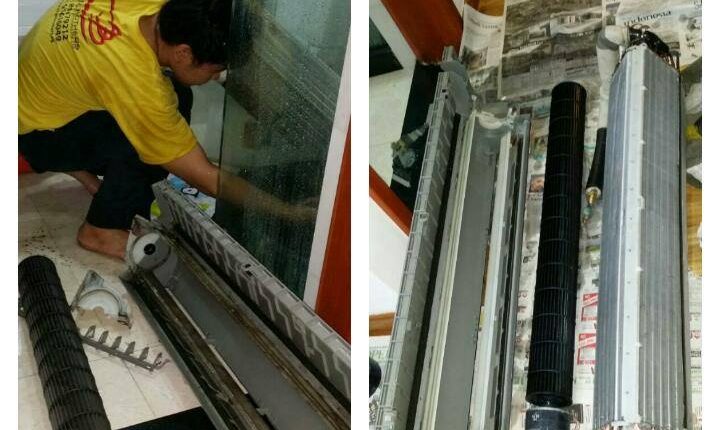 Why Aircon Chemical Servicing
&

Chemical Overhaul ?
Why is aircon chemical servicing important? With prolong usage of our aircon, we often experience a drop in performance. Issues such as aircon not cold or too noisy are common problems faced by many aircon users. The reason for many of the problems is that dirt and dust are accumulated aircon filters and coil which makes your aircon work harder to produce similar performance.
With the help of professional aircon servicing technicians, with our aircon chemical servicing, we will first dismantle the entire aircon unit, using chemical solution, our technicians will do a thorough chemical overhaul to it. With a clean and dirt free aircon, the air flow will be smoother and the amount of condensation will reduce significantly.
A well cleaned aircon unit will be more efficient and consume less power to perform at it's optimal level which will significantly reduce the your electrical bills and produce cleaner air.
Aircon Chemical Servicing
&

Chemical Overhaul Process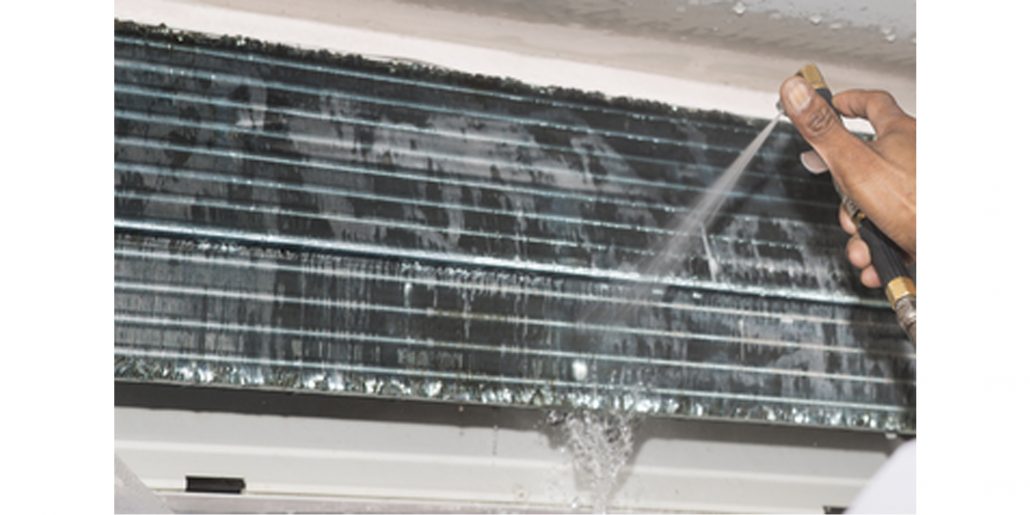 To ensure that your aircon is clean and dirt free, our professional technicians will use specialised aircon chemical solution to thoroughly wash your aircon.
These services includes:
| | |
| --- | --- |
| Chemical Clean & Check Aircon Filter & Cover | Chemical Cleaning & Checking Indoor Cooling Coil |
| Flushing of Drainage System | Chemical Clean & Check Condenser Coil |
| Check Compressor Suction And Discharge Pressure | Check And Lubricate Motor Bearing (if Necessary) |
All services provided comes with 90 days aircon servicing warranty to ensure our customers a peace of mind and satisfaction assured.
What Types Of Aircon Can This Service Be Used?
For both aircon chemical servicing and aircon chemcial overhaul, this service can be done on all type of aircon. This service serves to ensure that thorough cleaning is done to the unit to ensure dirt and dust has been removed both on the exterior casing and interior of the fan coil.
Aircon Chemical Servicing
&

Chemical Overhaul Price
| | | | |
| --- | --- | --- | --- |
| Aircon Chemical Washing | Number of Units | Best Rate | Warranty |
| (Dismantle partial parts during the cleaning process / Exclude Fan Coil) | 1 fan Coil Unit | 80 nett per unit | *90 days workmanship on scope of service only. |
| | | | |
| --- | --- | --- | --- |
| Aircon Chemical Overhaul Servicing | Number of Units | Best Rate | Warranty |
| | 1 fan coil units | 150 nett | |
| (Dismantle entire aircon unit during the cleaning process. Fan Coil Included) | 2 fan coil units | 140 nett per unit | *90 days workmanship on scope of service only. |
| | 3 & above fan coil units | 130 nett per unit | |
Servicing for casement aircon was done, when issues occurred the techinician came very fast to solve it
Technician Alex and Wu both are very friendly and professional. They are very patient with answering my questions and I'm very pleased with their service. Thumbs up 👍👍
Great service from Alex and Ah Wu! They were very patient to explain the details and share with us the tips to maintain and upkeep the aircons. We signed up chemical cleaning and 2 years servicing contract. After serviced, airflow and coldness has greatly improved. Strongly recommended.
很喜欢小武和alex的服务态度 👍👍还有帮我维修好我的空调👍
Ac broke down over the weekend and using chan brothers repair was really a pleasure. John arrived within 20 min of customer service taking my details. He had it running within 30 min of arriving. Will definitely consider using chan brothers repair again
12号告知想清洗空调,13号就安排进来。Alex和wu非常友好,也很专业,动作麻利,给了我很多小tips,空调不冷,测量氟量,很低,建议换掉里面的,保护compressor。推荐
Engaged them to replace fan motor due to noise from fan blower. John did a very good job. Very nice guy and also shared some tips for maintenance.
John did a good job for the service of my 2 units with chemical wash. He is very professional and knowledgeable by explaining the situation to us clearly.
Thanks John Kun.Great service.Swee
Got in touch through company website and ordered a set of system 2 for replacement. Received great help throughout the process, from ordering to installation.Senior technician Kun and assistant, Hui were knowledgeable and efficient, able to finish work according to schedule. Sales staff Wendy was sincere and prompt in responding to my enquiries on WhatsApp.After installation was happy to purchase AC servicing package from the company.Would recommend Chan Bros. to all!
Thank you to John who responded to and followed up on AC problems promptly.
Professional service from Ah Kun. He was knowledgeable and patient, completed serving and resolved leaking issue. Thank you
Great service delivered by Chan Bro Aircond - John A team.
John is very professional and helpful!
Alex is very friendly and polite. He is very helpful and offer alot of information regarding his service.
Alex did an fantastic work. he was meticulous and explain clearly what needs to be done. Highly recommended.
I needed to service my aircon and chanced upon Chan Brothers on Google. They were responsive via WhatsApp. Alex came down on the same day for the servicing. He was friendly, polite and explained clearly what was the problem and how to rectify it. I highly recommend!
John Kun is very helpful, detailed and professional. A great employee your company has. His helpful and candidness is what prompted me to sign a 2 year maintenances contract on the spot.
As usual, whenever our aircon have any issue, we will inform Chan brother team and they will quickly assign their team to take a look. Today we have experienced John ,who had previously resolved our aircon issue, to come down on last minute notice to take a look. Thanks for the excellent service !
The is the first time I tried Chan brother aircon servicing recommended by my brother , their service is excellent and serving guy Alex is friendly plus responsibility. I had singed up a 1 year package with them. Thanks so much Alex for your excellent service 👍👍👍
We have a yearly maintenance aircon service contract with Chan Brothers. Technician John have bring provide a good service and we have just done the chemical overhaul wash and it's really fantastic. Highly recommended.
The technician Mr John is really professional and giving some advice for us to how to take good care of air conditioner,and he really do it very detail for the checking part.Next service will still use Chan brother air conditioner servicing 👍🏻
Had very good experience with Chan Brother..The technician John is very friendly. He explanation to us in details and provide useful options resolve it.I really thankful found a trustworthy this company. And I will definitely recommend this company and this technician(John) to my friend and family member..😊😊
The service technician named Alex is commendable. Ill be looking for him again on my next service onwards...
John was very knowledgeable and professional in trouble shooting the issues that renders my aircon failure to operate. His clear explanation on the operations of condenser and the various parts such as the fan coil, the power requirement etc. His marketing skill and reccommendation is also commendable. We decided to head is advice and purchase a new System 4 aircon for the house. Five star service. Keep up the good job John!
Good experience , nice customer service .
Engaged them to install aircon in living room. Good service by their sales staff, John. hooi and Kai came for installation. The process was smooth and they were very professional. After installation, they make sure that everything was in order.Look forward for them to service my aircon in future!
The maintenance person was very helpful and also on time arriving at my home and giving us a tip on how we can take care of the air con and at the same time tell us on how to troubleshoot it when it's faulty. Called other company and not all accept my air con brand. Thanks to chan brothers company to save me. A big thank you to mr kun the technician for helping me out on this.
I would like to give a kudos to technician who is John as he was punctual and professional during the appointment for our aircon cleaning service . He did a good job in cleaning our units , CSR also did a good job for follow up and did my requestkeep it up guys.
John is very professional and explain everything clearly. Is really great help.
Serviced by Alex and he shared his recommendations professionally and explained technical knowledge patiently. Good service, hence, signed up on contract basis after one-time service.
Very professional service by ah kunFriendly and very knowledgeable
Very good service by ah kun, explained the cleaning process and was overall very helpful n kind
company was super fast and responsive in assisting me to arrange a last min same day repair even thou i called them at 4pm they arrange a team to come up ASAP and was attended by their technician John who was really very helpful and good with his work and resolved everything my aircon had,
Mr John, has done very professional with high quality service on time. I am impressive with him 👍
Twice they came to the rescue merely hours after I sought help over a/c leaking issues. The crew is friendly, helpful, fast and cleans up after their work is done. Highly recommend.
Set an appointment for my air con servicing, the service crews are nice and friendly. I think their services are reasonably charged. They are fast in working and responsible. They will ensure the rooms, toilet are clean before they left. They are humble too. Will contact them again for my next service.
Excellent aircon servicing works by technician John. Thorough and quick. Going to use their annual contract services.
A satisfy customer with Techinician John profession servicing. Greatly enjoying the coldness after chemical overhaul done. Keep up the good work. Have sign up for package. Thank you.21st March 2021Glad to have Alex this time for my aircon servicing(done on 19th Mar). My AC is so much cooler now after the chemical wash for the blower. Just in time for the hot hot weather.Thanks again.11th October 2021Have Alex again for my aircon regular servicing. Always explain and check thoroughly for any maintenance. Gas needs to be top up and it's ready for the cool cool air again.Thanks